9 Best News Aggregator Websites (+ How to Build Your Own)
Do you want to read the latest news and updates from your favorite blogs all at one place?
If so, then news aggregator websites are the best option for you. These websites automatically show the latest content from your favorite websites on one single page.
This way you can get all your news and blog updates quickly without missing anything.
In this article, we will share our pick of the best news aggregator websites to use in 2019. We will also show you how to build a news aggregator website of your own using WordPress.
What are News Aggregator Websites?
News aggregator websites allow users to view news and updates from various sources at one convenient location. They fetch the data, organize them in tags / categories, and display it in the right order for easier consumption.
You can also think of them as a compilation of news and updates presented according to user's preference.
Using news aggregators, you don't need to visit different websites for their latest content. Instead, you can find all the content in one place.
There are different types of content aggregators on the internet. Some are like Google News which simply gather articles from popular online newspapers and display them in related categories.
On the other hand, there are others like Feedly, which offer a more personalized experience. They allow you to create your own feed with your selected publishers.
Most of the news aggregators don't publish their own content. They fetch articles from other websites using their RSS feeds, which is why they are called feed readers as well.
With that said, let's take a look at the best news aggregator websites.
1. Feedly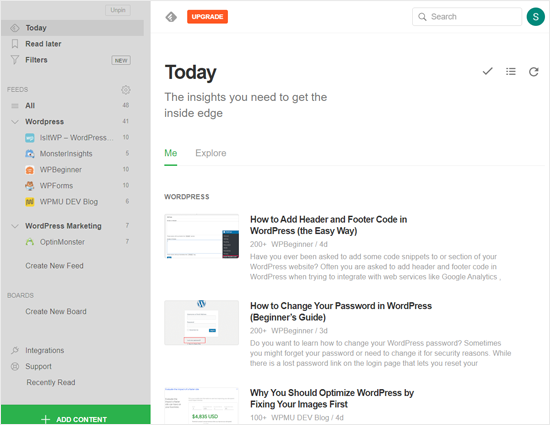 Feedly is one of the most popular news aggregator websites on the internet. It allows you to create a news stream of your own with latest content from your favorite publishers.
Using this platform, you can subscribe to content about a wide variety of topics. You can use their content suggestion engine to discover new websites by topics.
You can also manually add your favorite news websites or blogs. For example, you can subscribe to WPBeginner for WordPress related articles.
Feedly is available in both free and paid versions. The free plan lets you subscribe to 100 sources and create up to 3 personal feeds.
You can use Feedly in the browser or download it as a mobile app or browser extension.
2. Google News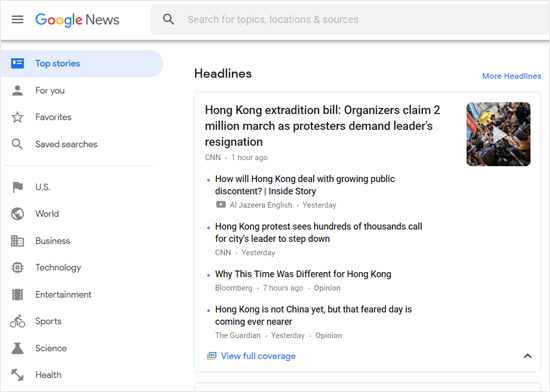 Google News is a powerful news aggregator powered by Google's sophisticated search technologies, AI, and user's own search history. By default, it shows you top news stories based on your geographical location.
It offers the latest news and updates for local, regional, international, business, technology, entertainment, sports, science, and health news.
You can save topics, sources, and searches, to customize your feed.
Google News is a free news aggregator that you can use on the web, your Android, and iOS devices.
If you are looking for a non-Google alternative then Bing News and Yahoo News offer the similar functionality.
3. Alltop
AllTop aggregates news and blog articles from the world's most popular websites like TechCrunch, Mashable, BBC, CNN, and more. It curates and displays content in the real-time.
There are separate categories for politics, tech news, sports, entertainment, lifestyle, business, etc. Upon clicking on those categories, you can find the most popular stories, as well as top stories from the top sources in the related topic.
Besides the most recent news, it has a viral category where it showcases the latest viral content and trends.
4. News360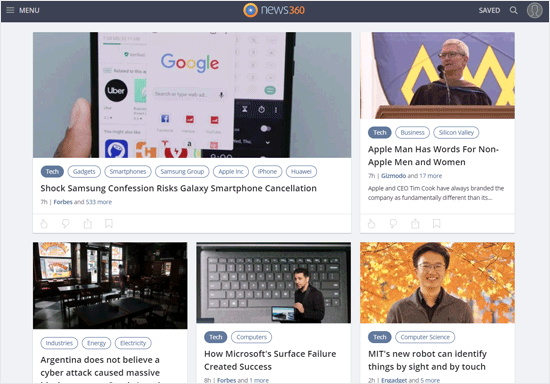 News360 is one of the most popular news aggregator apps on the internet. It lets you find world news as well as stories around your interests. It is an excellent alternative to Google News and Feedly.
As you sign up to News360, you can choose the topics you are interested in, and then it will show you the latest content on those topics. This gives you a healthy news stream out of the box, which you can further customize by adding or removing topics and sources.
News360 lets you get the most important news from over 100,000 trusted sources on the internet.
You can read News360 in your browser, iOS, and Android devices.
5. Panda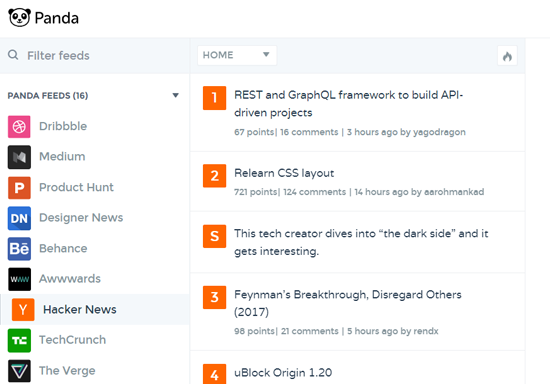 Quite different from the above news aggregators, Panda aggregates content useful to web designers, developers, and tech entrepreneurs. It gathers content from Dribble, Behance, TechCrunch, Wired, and other similar websites.
As a niche news aggregator, Panda displays the news in a more engaging layout allowing you to discover the most interesting content. The content feed for sources like Dribble, Awwwards, is a smart grid of thumbnails.
6. Techmeme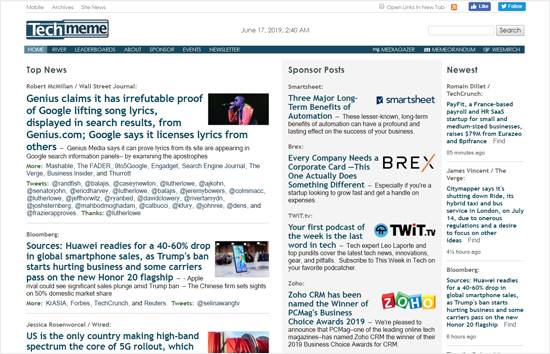 Techmeme is a tech news aggregator website. It covers top stories about technology from various reliable sources like TechCrunch, Wired, New York Times, and more.
The homepage features top trending news in the tech sphere, sponsor posts, jobs, and upcoming tech events. Users can also switch to the River view for updates as they come or the Leaderboard view which shows content by topics.
Techmeme is a good starting point for anyone looking for an easier way to stay up to date with the latest tech news.
7. Flipboard
Flipboard is an excellent blog aggregator site that allows you to create your own content feed based on your interests. It includes a wide range of topics, including business news, tech news, travel, politics news, beauty, and more.
You can also use Flipboard as a local news aggregator because it has feeds for almost all the cities in the world.
Flipboard has a stunning magazine style layout which comes with interactive options to like, comment, and share content across your social media profiles.
Flipboard is available via browser or mobile apps for Android or iOS devices.
8. Pocket
Pocket is another news aggregator app where you can explore the most popular content across the internet. It also lets you create your own reading space by saving the content you like.
Pocket features different types of content, including articles, videos, and stories from a wide range of publications. It has various content categories like must-reads, trending, tech, finance, health, etc. for easy browsing.
It allows you to save content to read later while on the go, and it is available as browser extensions as well as mobile apps.
9. Inoreader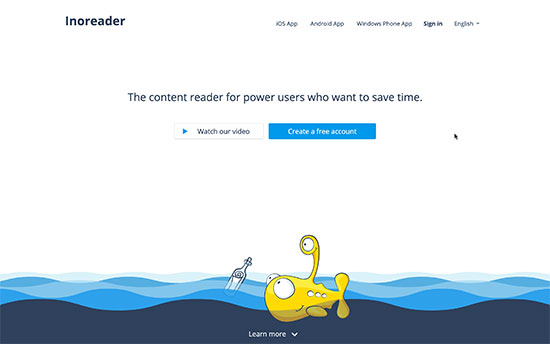 Inoreader is a powerful Feedly alternative and excellent feed-reader software. Available on the web, iOS, and Android devices, Innoreader allows you to easily add your favorite websites or find new blogs to subscribe.
It offers tons of options to curate, rearrange, and display content in different layouts and color schemes.
If you are already using a news reader, then you can easily import your subscriptions. As your reading list grows, you'd also be able to manage subscriptions in bundles and topics.
Honourable Mentions
Well, that was our list of news aggregators to follow in 2019! But there are many more news aggregators. Here are some honorable mentions you may want to check out.
Apple News: News aggregator for Apple users.
Curator: Social media aggregator.
TweetDeck: Twitter content aggregator.
Reddit: Social news aggregator.
How to Build a News Aggregator Website with WordPress
News aggregator websites are immensely useful, and there are so many niches that are completely untapped. By creating a news aggregator website catering to those niches, you can easily make money online by selling subscriptions, sponsorships, and advertisements.
The best part is that you'll be curating the content, instead of creating your own original content. You would be able to offer highly useful information to your users from the top sources.
Let's take a look at how to easily create your own news aggregator website step by step.
Step 1: Setting up Your News Aggregator Website
You can make a news aggregator website using other website builders or writing your own custom code. Both options are quite difficult for a beginner level user with no programming skills.
The easiest way to do this is by using WordPress.
There are two types of WordPress websites, WordPress.com and WordPress.org. You'll need WordPress.org because it gives you full freedom and flexibility out of the box.
To learn more, see our guide on the difference between WordPress.com vs WordPress.org.
To start with WordPress.org, you'll need a web hosting account and a domain name.
Normally, a domain name costs $14.99 / year and WordPress hosting plan costs $7.99 / month. And now since all websites need SSL, you can add an additional $69.99 / year to that total. This is quite a lot of money.
Luckily, Bluehost has agreed to offer our users discount on hosting with a free domain name + free SSL certificate. Basically you'll be able to get started for just $2.75 / month.
Simply visit the Bluehost website to complete the purchase, and then head over to our guide on how to create a WordPress website for step by step setup instructions.
Step 2: Install and Activate WP RSS Aggregator Plugin
After you have setup your WordPress website, the next step is to install and activate the WP RSS Aggregator plugin. For more details, see our step by step guide on how to install a plugin in WordPress.
WP RSS Aggregator is the best WordPress plugin to turn a WordPress website into a content aggregator. It allows you to import, merge, and display RSS feeds on your WordPress website without any coding.
Upon activation, visit RSS Aggregator » Settings from your dashboard to configure the plugin settings.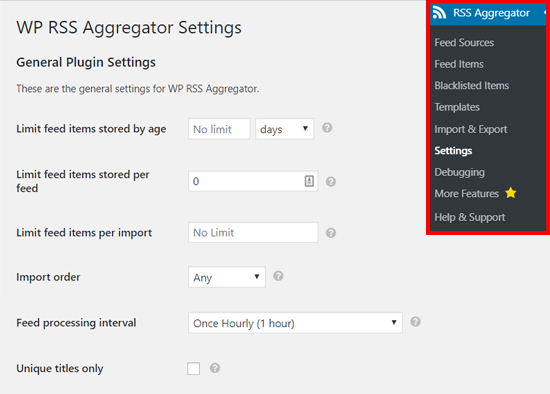 The default settings would work for most websites, however, you still need to review and change them if needed.
Step 3. Add Feed Sources to Import Feed Items
Now your website is ready to start displaying news feeds. You just need to add the sources that you want to display on your website.
WP RSS Aggregator can fetch and display content from any website that has an RSS feed. Most news and blog websites have an RSS feed.
First, go to RSS Aggregator » Feed Sources page from your dashboard, and then click on the Add New button.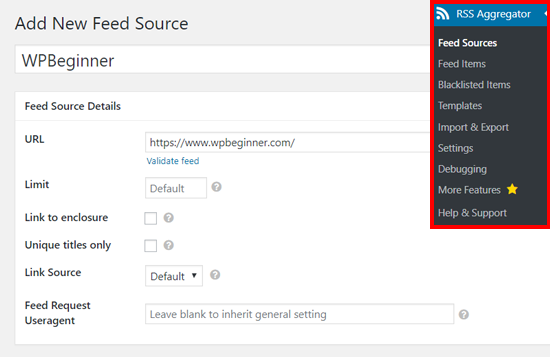 After that, you can add your feed source. Enter the name of the feed source website, for example, WPBeginner.
Next, you need to enter the feed source URL. In most cases, you can simply enter the website URL.
You can click on the 'Validate feed' link below the URL field to test the RSS feed validity.

If the link is valid, then you can publish your feed source.
Once done, the plugin will immediately start to import feed items (depends on feed processing interval).
You can see the imported feed items by going to RSS Aggregator » Feed Items.
After that, repeat the process to add more feed sources to your website.
Step 4: Publish Your Content Aggregator Live
Now that you have feed items imported, you can publish your aggregated articles live on your website.
Create a new page or post to publish your content feed. Next, you will need to click on the Add New Block icon and choose the WP RSS Aggregator block under Widgets section.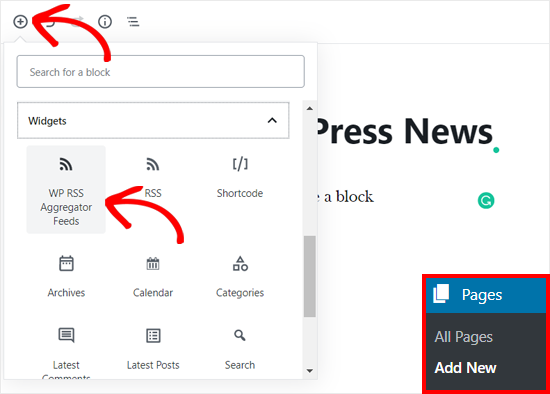 Once done, the plugin will automatically load your WordPress feed.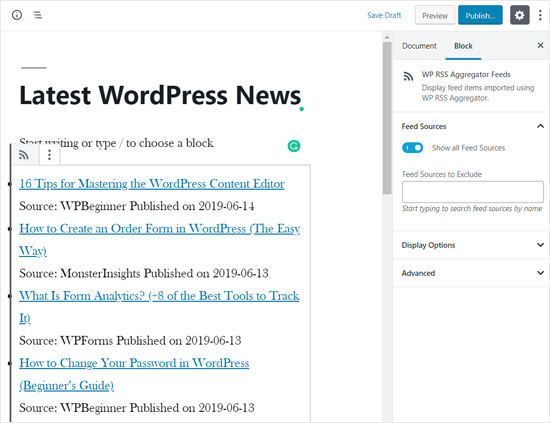 Now you can publish your page, and view your content feed live. Here is how it looked on your demo website.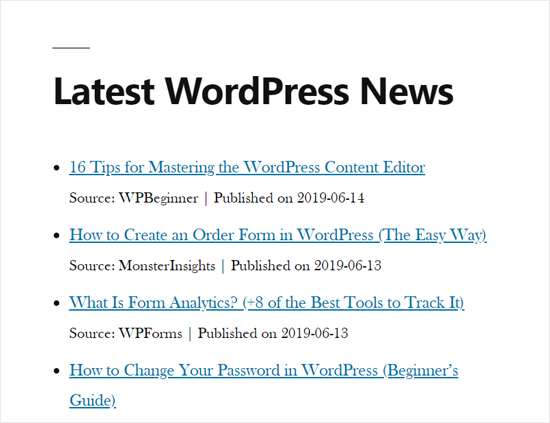 Step 5: Add More Features to Your WordPress Content Aggregator
WP RSS Aggregator lets you add more features to your WordPress content aggregator with its premium addons. You can view the available addons by going to RSS Aggregator » More Features from your dashboard.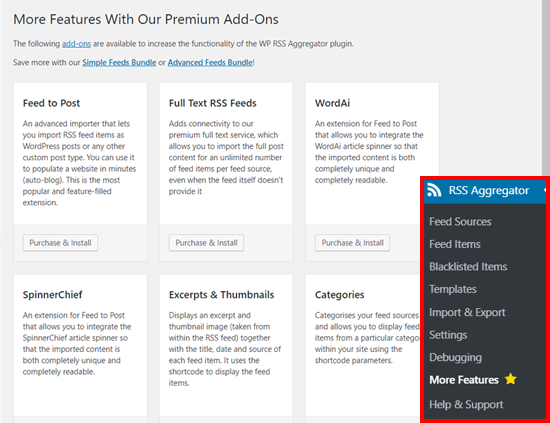 Using these addons, you can import your feed items as WordPress posts, and make a news aggregator website with a lot more features. The Feed to Post addon lets you add that functionality making each feed item its own independent content.
You can also display post thumbnails and excerpts with feeds. To add this feature, you need to use the Excerpts & Thumbnails addon.
For a detailed guide on the advanced features of the plugin, see our complete guide on fetching feeds in WordPress using WP RSS Aggregator.
We hope this article helped you learn about the best news aggregator websites and how to build your own in WordPress. If you're a content publisher, then you may also want to see our guide on optimizing your RSS feed. This will help you get more traffic from news aggregator websites displaying your feed.
If you liked this article, then please subscribe to our YouTube Channel for WordPress video tutorials. You can also find us on Twitter and Facebook.
The post 9 Best News Aggregator Websites (+ How to Build Your Own) appeared first on WPBeginner.